History Services Questions Dedicated Staff Media Room

What's a Grist Mill?
A grist mill is a grain mill that turns whole berries of grain or whole kernels of corn into meal or flour. At Kenyon's Grist Mill, we still do it the old-fashioned way and continue to use the original granite millstones quarried from Westerly, RI. These huge stones produce the exceptional texture and quality not found in modern, steel ground flours. Single pass stone grinding also preserves the vital, natural nutrition of the grains. Kenyon's offers the ingredients that health conscious consumers are searching for, ground the simple, old fashioned way of long ago. We encourage you to read about the difference between genuine stone ground products and steel ground products here.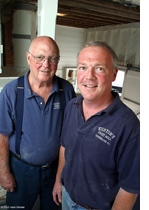 Our Location & History
Our building is nestled along the banks of the Queen's River in the village of Usquepaugh. We are the oldest manufacturing business in Rhode Island, and the second oldest continuously operating business in the state. Although our current building dates back to 1886, we've been grinding meals & flours continuously on site since 1696. For more history, click here.

In the old days, farmers would bring their corn - or grist - to be ground. The miller usually received a portion of the meal as payment. C.D. Kenyon, who purchased the mill in 1909, saw the potential for selling the ground meal. He began to brand it in sacks with the Kenyon name and made it available to everyone. The grain was transported as far away as Providence by horse and buggy, and delivered to various markets throughout the state. In 1916, the company bought a Model T truck, which made deliveries easier. This made it possible to satisfy the growing demand for Johnny Cake Meal, which then extended to the entire state of Rhode Island, and parts of Connecticut and Massachusetts.

Quality, Nutrition & High Standards
Kenyon's Grist Mill is regularly inspected by the Rhode Island Department of Health and the FDA. This qualifies us to ship throughout the country and stand behind our products' excellence. Customers have sought Kenyon's products for generations because of our honesty, dependability, and high standards. We pride ourselves in doing business the right way and feel honored to be preserving a piece of Rhode Island's history. Kenyon's Grist Mill is always looking for new sources of locally grown grain, especially the rare crop of Rhode Island Flint Corn. Although we try very hard to purchase our grains as local as possible, it is also important to consider the farming methods used. Our farmers source non-GMO seed and do no use pesticides. We do not use any additives or preservatives. If you are inquiring about an allergy, click here.

Our Online Store & Popular Products: Johnny Cake Meal, Clam Cake Mix & More!
We are best known for our genuine stone ground cornmeal, especially stone ground white cornmeal (or Johnny Cake Meal) to make Johnny Cakes. This traditional Rhode Island food dates back to the colonial time when Native American Indians introduced corn to the settlers. At first, they were known as "Journey Cakes". Settlers often took them along on their journeys. The "r" eventually got dropped and "Journey Cakes" became, "Johnny Cakes".

Other popular items are Clam Cake Mix, Pancake Mixes, Corn Bread & Muffin Mix, Brown Bread Mix, as well as a variety of other meals, flours and other mixes. Our adherence to time honored techniques does not prevent us from introducing other nontraditional organically grown grains to Rhode Island such as Red and Blue Corn. To learn more about all of our products or to order online, click here.

Lightfoot's Pine Soap & Other Local Favorites
Kenyon's Grist Mill is the premier national distributor for Lightfoot's Pine Soap. Made right here in Rhode Island, this soap is produced by one of the oldest soap makers in the country! For more information, click here. We also sell Rhode Island Maple Syrup & Honey, Jams, Coffee Syrup, Quahogs, and more!

Purveyors - Where to Find Us
Our products can be found in local Rhode Island markets, as well as gourmet and specialty shops. Many fine restaurants also feature Kenyon's products, and each May numerous granges, legion halls, and churches, prepare our Johnny Cake meal for their May Breakfasts. Products may also be purchased on our web site, through mail order, or simply stop by our Grist Mill Store just across the street from our mill. For a list of purveyors, click here.

Hours of Operation & Directions
Click here.

2015 Summer Tour Weekend & Kayaking Event at the Mill: July 18 & 19
10 a.m. - 5 p.m. Free admission. Free parking right at Kenyon's Grist Mill. Enjoy free tours of the mill with Johnny Cake demonstrations. Sample free Johnny Cakes and local coffee. Larger orders of Johnny Cakes will be available for purchase. Visit the shop for a variety of Kenyon's products and local items. Kayak along the Queen's River for only $10/hour per person. All equipment is provided. Kayak rentals are first come; first serve. We will not be taking reservations. All rentals will be on the Queen's River only. For directions, click here. For more information about Queen's River Kayaks, click here.

2015 Autumn Tour Weekend & Clam Cakes/Chowder Event at the Mill: Oct. 24 & 25
10 a.m. - 5 p.m. Free admission. Free parking right at Kenyon's Grist Mill. Enjoy free tours of the mill with Johnny Cake demonstrations. Sample free Johnny Cakes and local coffee. Larger orders of Johnny Cakes will be available for purchase. Visit the shop for a variety of Kenyon's products and local items. Warm up to our famous Clam Cakes & Chowder, which we will also be offering for purchase as well! For directions to the mill, click here. This is a wonderful, smaller event to take place of the larger Johnny Cake Festival. We hope to bring the Johnny Cake Festival back soon. For more details, visit JohnnyCakeFestival.com.

Private Group Tours
Kenyon's Grist Mill has been offering private group tours for many years. Our historic attraction and culinary heritage is a major draw across the country. It has been a pleasure to meet so many people and share what we do. We are a proud member of American Bus Association and have also attended the National Tour Association. If you are a tour operator who is looking for more information on the mill and site, click here.

Walk-ins and Small Group Tours
All of our customers are very important to us! Although we love our visitors too, in order to get our orders out on time, we are very focused on production and office duties Monday through Friday, making it nearly impossible to give an unscheduled tour. Production does not usually run on weekends. Please respect that we are a small business with limited & dedicated employees. Click here for more information on our special events with tours. We've dedicated time to open our doors to the public with free tours, Johnny Cakes, and a whole lot more! With ample time, we may be able to schedule a private tour. Please call 800-7-KENYON. Take a video tour here.

Community Fairs & Demos
Be sure the visit the Kenyon's Booth as we travel New England cooking our Clam Cakes and Chowder at Community Fairs. For a list of dates and locations, click here. Don't miss us in the Rhode Island Building at the Big E in West Springfield, MA. We also participate in Johnny Cake cooking demonstrations and sampling at smaller events across Rhode Island throughout the year.

Queen's River Kayaks: Kayak Rentals/Trips
Since 2009, we have been offering full-service kayak rentals by the mill on the Queen's River, Wood River, and Pawcatuck River. Queen's River Kayak Company operates from late April to the end of August. To make a reservation, or to get more information, click here.

Flood 2010
On March 30 & 31, 2010, Rhode Island experienced a state of emergency when waters rose to levels that hadn't been seen in over 100 years causing hundreds of people to evacuate their homes and businesses. Although the mill was virtually undamaged, the earthen dam and spillways, also owned by Kenyon's Grist Mill suffered severe damage from the excessive rain. Our dam was built in 1696 to create a reservoir of water to power various mills on the site. It has created a very well established watershed that must be protected and preserved. This part of Rhode Island's environment stretches through South Kingstown, Exeter, and North Kingstown. The Nature Conservancy's Queen's River Preserve and the Audubon Society of Rhode Island's Eppley Preserve and Fisherville Brook Wildlife Sanctuaries rely on this reservoir, which creates a habitat for a variety of wildlife. Since the site is privately owned, all of the work that has been done in Usquepaugh on the dam and spillways has been done at Kenyon's Grist Mill's expense without federal funding. The final estimated costs for the completed restoration project range from $600,000 to $1,000,000. We are looking for contributions of work, materials, expertise and funding. Please be in touch if you are looking for a very gratifying project to maintain and secure a piece of Rhode Island's history and environment. Click here for more details and photos on the flood.