Winter Hours ...Spring is Almost Here!
Our current hours of operation for the mill are weekdays, Monday through Friday from 11 a.m. to 4 p.m. Due to winter conditions and cold temperatures, we've decided to close the shop across the street at this time. However, freshly ground product is always available directly at the mill during production hours. You may also order online here. We ship across the country!

From April 12 to December 28, hours of operation for the mill and the shop are Monday through Friday from 9 a.m. to 4 p.m. Additional weekend shop hours are Saturday and Sunday from 11 a.m. to 4 p.m. We are closed on national holidays and will be closed or have limited staff on the days of the annual, community fairs we participate in - where we cook our famous chowder and clam cakes using our stone ground yellow corn meal! For a list of these fair dates, click here.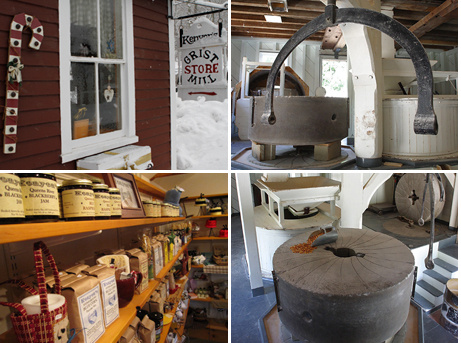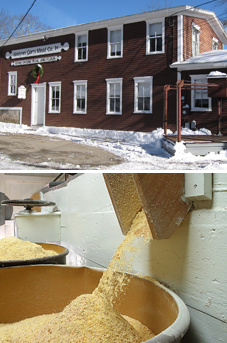 In Loving Memory of Paul Drumm Jr. (June 9, 1930 - December 14, 2013)
I just wanted to let our Kenyon's family, friends, and customers know that my dad, Paul Drumm Jr., passed on Saturday, December 14th at 6:15 a.m. His humor, knowledge, and helpful nature will be greatly missed. Since he bought the mill in December 1971, he put so much care, love, and dedication into it. He was truly a caretaker of a Rhode Island tradition. It has been a long journey since he caught pneumonia in September. Since then, many friends and family members have been by his side at the nursing home and several hospital stays. He is now reunited with all of those we miss so much. For a wonderful article by the South County Independent, click here. Sincerely, Paul Drumm III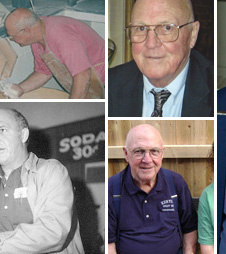 Videos of Paul Drumm Jr. ~ He will be GREATLY Missed!


About Kenyon's Grist Mill
A grist mill is a grain mill that turns whole berries of grain or whole kernels of corn into meal or flour. At Kenyon's Grist Mill, we still do it the old-fashioned way and continue to use the original granite millstones quarried from Westerly, RI. These huge stones produce the exceptional texture and quality not found in modern, steel ground flours. Single pass stone grinding also preserves the vital, natural nutrition of the grains. Kenyon's offers the ingredients that health conscious consumers are searching for - ground the simple, old-fashioned way of long ago.

Our building is nestled along the banks of the Queen's River in the village of Usquepaugh. We are the oldest manufacturing business in Rhode Island, and the second oldest continuously operating business in the state. Although our current building dates back to 1886, we've been grinding meals & flours continuously on site since 1696. Our most popular items are White Corn Meal (or Johnny Cake Meal), Clam Cake Mix, Pancake Mixes, Corn Bread & Muffin Mix, Brown Bread Mix, as well as a variety of other meals, flours and other mixes. We encourage you to read about the difference between genuine stone ground products and steel ground products here.

Kenyon's Grist Mill is regularly inspected by the Rhode Island Department of Health and the FDA. This qualifies us to ship throughout the country and stand behind our products' excellence. Customers have sought Kenyon's products for generations because of our honesty, dependability, and high standards. We take pride in doing business the right way and feel honored to be preserving a piece of Rhode Island's history. Kenyon's Grist Mill is always looking for new sources of locally grown grain, especially the rare crop of Rhode Island Flint Corn. Although we try very hard to purchase our grains as local as possible, it is also important to consider the farming methods used. As always, we do not use, or source grain with any additives, pesticides or preservatives. For more updates on what we are doing, make sure you follow us on facebook here.