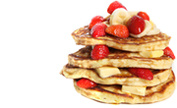 Visit the Shop in Usquepaugh ~ Now Open on Weekends
Our current hours of operation for the mill and shop are Monday through Friday from 9 a.m. to 4 p.m. Additional weekend shop hours are Saturday and Sunday from 11 a.m. to 4 p.m. until December 27. We are closed on national holidays and are closed or have limited staff during the annual, community fairs we participate in. These fun events across southern New England are where we cook our famous chowder and clam cakes (using our very own stone ground yellow corn meal). For a list of dates and locations, as well as information on events at the mill, click here. For directions, click here.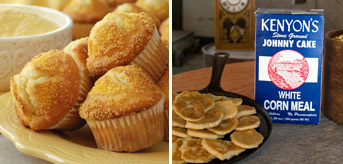 May Breakfasts are Near...
In Rhode Island, May 1 (and the first weekend in May) is a celebration of spring…with food on your plate! This is a bustling time of year when thousands of locals and visitors alike, will spring out of bed and run to churches, granges, fire stations, community centers, museums, clubs, schools, coffee shops, and restaurants. This annual, quintessential banquet began in 1867 at the Old Quaker Meeting House in Cranston as a two-day fundraiser. What started 148 years ago, is now a tradition across the Ocean State; a feast with neighbors and friends. There is nothing better than to celebrate "high season" with a heaping pile of pancakes, French toast, scrambled eggs, muffins, ham, doughnuts, sausage, and bacon. And if that's not enough, top it off with baked beans, biscuits, pie, clam cakes, coffee, pasta, chicken, cornbread, and so much more! If you're visiting Rhode Island, plan to get stuffed! Although May Breakfasts may be different wherever you go, one thing remains…May Breakfasts are not complete without the tradition of Johnny Cakes!

Creating your own May Breakfast at home? Browse our online store or visit the shop at the mill. We've got variety of wholesome pancakes mixes, Corn Muffin Mix, Johnny Cake Meal, bread mixes, jams, and other meals and flours. Holding a May Breakfast at your establishment? Save money by ordering direct at wholesale by calling 800-7-KENYON. Please send us promotional material for our shop and website. If you are looking for a list of May Breakfasts, www.Quahog.org is a great site for information as the dates draw closer.

Lightfoot's Pine Soap ~ Unbeatable Price!
This light, fresh scent will remind you of walking through a pine grove. It is like taking in a breeze from New England Pines. Hard milled and moisturizing, it will last in your soap dish without dissolving and leave your skin feeling soft. Made right here in Rhode Island, Lightfoot's Pine Soap is produced by one of the oldest soap makers in the country! Kenyon's Grist Mill is the premier national distributor for this natural product. It is so popular; we even offer this soap by the case to wholesalers, country clubs, hotels, and retail customers alike. To order retail, click here. For wholesale, call 800-7-KENYON.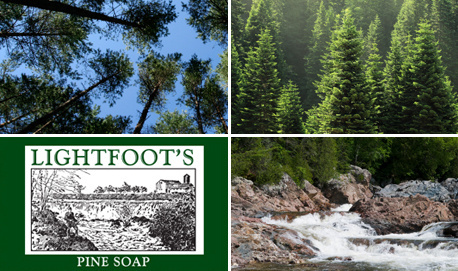 About Kenyon's Grist Mill
A grist mill is a grain mill that turns whole berries of grain or whole kernels of corn into meal or flour. At Kenyon's Grist Mill, we still do it the old-fashioned way and continue to use the original granite millstones quarried from Westerly, Rhode Island. These huge stones produce the exceptional texture and quality not found in modern, steel ground flours. Single pass stone grinding also preserves the vital, natural nutrition of the grains. Kenyon's offers the ingredients that health conscious consumers are searching for - ground the simple, old-fashioned way of long ago. We encourage you to read about the difference between genuine stone ground products and steel ground products here.

Kenyon's Grist Mill is the oldest manufacturing business in Rhode Island and the second oldest continuously operating business in the state! We are regularly inspected by the Rhode Island Department of Health and the FDA, which qualifies us to ship throughout the country and stand behind our products' excellence. Customers have sought Kenyon's products for generations because of our honesty, dependability, and high standards. We take pride in doing business the right way and feel honored to be preserving a piece of Rhode Island's history. Kenyon's Grist Mill is always looking for new sources of locally grown grain, especially the very rare crop of Rhode Island Flint Corn. Although we try very hard to purchase our grains as local as possible, it is also important to consider the farming methods used. As always, we do not use, or source grain with any additives, pesticides or preservatives. Feel free to purchase products online here or visit our shop during our hours of operation. For recipe ideas, click here. For more updates on what we are doing, make sure you follow us on facebook here.

Tour the Mill by Video
The videos below remind us of Paul Drumm Jr., who purchased Kenyon's Grist Mill in 1971. He was truly a caretaker of a Rhode Island tradition. His legacy lives on with us every day (June 9, 1930 - December 14, 2013).


Up Next ~ Public Events, Demos, and Happenings in April & May!
We like to keep our friends and customers updated on what we are doing next...right on our homepage. For a complete, annual list and more detail (descriptions, times, websites, etc.), please click here.

During the month of May, the flowers start blooming, the birds sing louder, the geese and ducks come to visit, the waterfall cranks, our large, white tent goes back up for tours, the shop opens again, we freshen up our Kenyon's Clam Cake Trailer, and begin to grind...a lot of corn! The aroma fills our historic mill. Ahh...spring is here.

Brief notes on what is going on in our neighborhood...
April 11: Kenyon's Grist Mill Shop Opens on Weekends & High Season Hours Begin ~ No Tours or Samples, but visit us!
May 5: Celebrate South County Day - Providence, RI (Rhode Island State House) ~ Johnny Cake Samples/Demo
May 8 - 10: Misquamicut Spring Festival, Westerly, RI ~ Purchase Clam Cake & Chowder
May 28: Rhode Island Ag (Agriculture) Day - Providence, RI (Rhode Island State House) ~ Johnny Cake Samples/Demo
May 30 & 31: Rhode Island National Guard Open House Air Show, North Kingstown, RI ~ Purchase Clam Cake & Chowder