Johnny Cake Festival Mill Events & Functions Community Fairs, Demos & More Groups

For a list of dates, links, and more information, look below...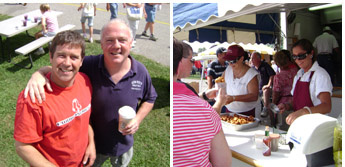 COMMUNITY FAIRS - SOUTHERN NEW ENGLAND
Visit our blue & white Kenyon's Booth as we travel New England cooking our Clam Cakes (made with our very own genuine stone ground yellow corn meal) and delicious Chowder at Community Fairs.

Charlestown Chamber of Commerce Annual Seafood Festival - Charlestown, RI: August 5-7th
Visit us at Ninigret Park for seafood galore. Enjoy our famous Clam Cakes and New England Clam Chowder. Johnny Cake Meal and Clam Cake Mix will also be available for sale. We look forward to this classic South County event every year. Enjoy food, crafts, live music, and kid's carnival. For more information, click here.
DEMONSTRATIONS, SAMPLING, and OTHER EVENTS - SOUTHERN NEW ENGLAND
Visit us as we cook Johnny Cakes at smaller events across the state.

(Tentative) Rhode Island Agriculture Day - Providence, RI (RI State House)
11:30 a.m. - 5 p.m. Celebrate with many agricultural organizations and farms across the state. Free samples and literature. We will be cooking free samples of our Johnny Cakes. For more information, click here.